Ethereum gas fee has always been a topic for argument among crypto enthusiast. The price that users pay miners for each transaction is the financial incentive for operating the network. While there has been a considerable growth in the blockchain usage in recent months, the transaction volume in the Ethereum network has risen, too.
The surge has resulted in a two-year high in mining revenue that reached more than $409,000 today surpassing the previous high of $405,571.48, according to Glassnode.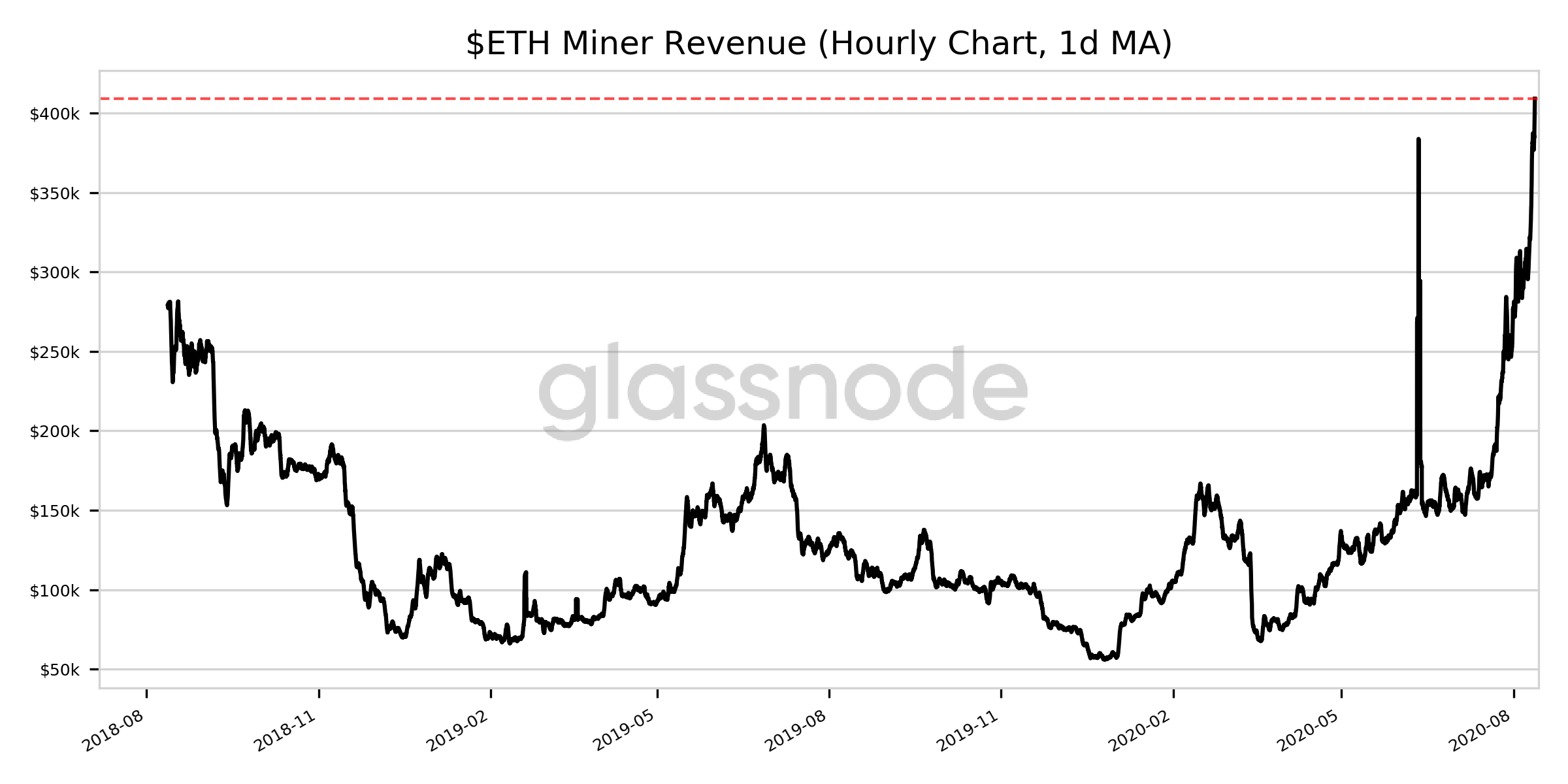 Many experts in the industry have pointed at DeFi as the most critical blockchain concept in 2020. Most Defi applications use the Ethereum network as the underlying blockchain. Developers benefit from the smart contract features available on Ethereum, that most of them rely on ETH to operate.
Chainlink (LINK) that has been one of the best performing tokens in recent months is an Ethereum-based token. Although it doesn't have a direct impact on the ETH transactions, the growing popularity of these kinds of tokens attracts more users to the Ethereum community.
See Also: Is Chainlink (LINK) Headed For Top 5 With Back-to-Back All-time Highs?
ETH 2.0 is another powerful concept impacting the Ethereum network and transactions. The next phase of the network is on the development progress and has caused lots of hype.
The Ethereum Foundation recently launched the validator launchpad for the Medella testnet, and building an internal security team for the next phase has resulted in many users becoming more hopeful about ETH 2.0.
Speculators believe that ETH 2.0 will have a considerable impact on DeFi development and will result in more developers trying to adapt the Ethereum network, which will inevitably result in more transactions and activities in the network.
Although there are many positive impacts from ETH 2.0, its release will not be good news for miners. They're now enjoying the PoW algorithm in Ethereum. But ETH 2.0 is based on PoS, and their mining equipment will become useless. They will be forced to mine other coins with their hardware or stake ETH in the new network. After all, we may be looking at the final days of significant revenue for ETH miners.
See Also: Vitalik: Only Ethereum 2.0 Will [Probably] Fix ETH Supply Calculation 
Never miss out on our daily crypto news, stories, tips, and price analysis.  Join us on Twitter | Telegram | Facebook or subscribe to our weekly Newsletter. 
This article is Originally posted on CoinCentral.com
Author: Mehdi Zare
Related Articles